Cars
Our Mobile Money Pits: The True Cost of Cars
12:47 PM EDT on September 2, 2010
Rowena learned about the true cost of cars the hard way. Raised by her mom, a Filipina immigrant, in a happy if carless home in northern California, Rowena marveled upon graduating from college and getting a steady job that she could afford to lease her very own car.  For a small down payment and $199 a month, she was in a beautiful new Honda.
Three years later, lease up, the dealer convinced her to buy a somewhat nicer car, one with "just $299" in monthly payments.  When the car was repossessed a year later because she couldn't make the payments, she figured she had handed her dealer and loan company over $15,000.  Sitting down to do the math, she estimated that insurance, gas, parking, tickets, tolls, taxes, and fees had vacuumed an additional $12,000 out of her accounts.
So four years and $27,000 later, Rowena had no vehicle, no savings, and a credit rating in ruins.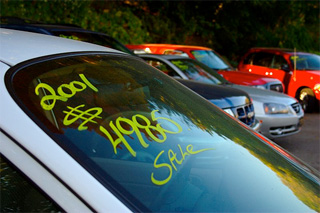 Like most Americans, Rowena had no idea of the true total and ongoing financial cost of car ownership, and, like most Americans, she found her dealer in no rush to warn her about them.  While rent or mortgage remains the largest budget item for the average household, transportation now comes in a close second, and in some zip codes it even exceeds housing.
Transportation swallows one out of every five dollars earned by the average American family, double the bite it took in 1960. This increase alone could account for much of the plummet, over that fifty-year period, in the household savings rate, which by the aughts had skidded close to zero.
We know how things got this bad. Back in 1960, developers had not yet fully sprawled out our housing stock; government had not yet spent billions on road building, letting transit atrophy; automakers had not yet piled on horsepower, luxury, and cargo space; lenders had not yet become so likely to set unsustainable and predatory car credit terms; and drivers had yet to consider short trips unwalkable and bus trips social suicide.
By 2009, the average purchase price of a new vehicle was over $27,000. But the true cost to families can easily total $45,000 for a midsize SUV like the Toyota Highlander, over just five years of ownership. The Department of Energy reports that the typical American household drove its average two cars a total of 20,000 miles last year. Assuming each vehicle is a mid-size sedan, that's $14,600 a year, using AAA's 2010 driving cost estimate of 73 cents per mile.  Some families with two older, smaller cars or who drive fewer miles, say, will pay less; some families, with late model cars or trucks or an extra car, will pay a lot more.  In a lifetime of car ownership, an American family will likely "invest" almost $1 million in its vehicles.
And these numbers don't even count yet more hidden costs like the mortgage on our garages or the property taxes levied on them.  More significantly, they exclude the goodly portion of our other tax bills that go to road-building, oil and car company subsidies and bailouts, local police and rescue services for dealing with traffic and crashes, the costs of road congestion passed on in the price of goods and services, or the oil-protection services of the U.S. military in the Middle East and elsewhere.
If the costs of cars for middle-class families have become largely unsustainable, those costs are immediately and profoundly crushing for working and poor families.  That a car-dependent society makes such families poorer is well established, but this reality rubs against the conventional wisdom that owning a car creates opportunity. This mistaken belief is not without logical basis: the poor and carless can face extreme difficulty in getting and keeping employment because it is challenging simply to get to available jobs.  A variety of governmental agencies and NGOs across the country work to help get the poor into cars for just this reason and with this assistance, some have achieved needed mobility.
Sadly, this well-intentioned approach is both scattershot and short-sighted.  Cars chomp a disproportionate bite out of the smaller budgets of struggling families, who can be one fender bender or unpaid parking ticket away from losing their wheels. But this isn't the only way those who are poor or working class lose out when they enter the car system. The car system redistributes wealth upward, playing a significant role in the creation of inequality in America.
How exactly?  Cars are an expensive and depreciating asset for which there remains pervasive discrimination in new and used vehicle pricing, financing, and insurance.  In other words, someone with low income or living in a poor or minority neighborhood will likely pay more to own and operate the same car than someone holding a higher-paying job or living in the next town over.
A used car lot in a poor Providence, RI neighborhood, for instance, advertised a 6-year-old Hyundai for $9,000 while the actual Blue Book value, more likely to be paid by middle class car buyers, was $2,880. Car insurance also comes with a higher price tag: Car owners living in some low income areas of Los Angeles can be charged as much as $3,500 per year for insurance, and a survey of three large insurers in 2005 found that drivers with clean driving records in some African American communities paid nearly $1,000 more per year than did drivers with similar records living in predominantly white zip codes.
At the same time, some of the richest Americans continue to get richer off the nation's automobile dependence. Oil and car companies have long made up the majority of the top 10 firms in the Fortune 500, and for years, windfall oil and banking profits have been reaped from the gasoline-buying and loan-taking public. Even as they have been laying off workers and taking federal handouts, car companies have rewarded top executives and major shareholders: GM's just-resigned Ed Whitacre made $9 million last year while Ford's Alan Mulally pulled in just under $18 million. The CEO of one dealer chain, Auto Nation, took home almost $7 million in 2009.
While a fortunate handful make a fine living off of the current system, Americans residing on the bottom half of the national income distribution graph can't live with the car and they can't live without it.  We'll return to what car dependence looks like day-to-day from the working and poor neighborhoods of America in a future post.  The bottom line here, though, is that we all need to understand the true cost of car ownership if the public and our elected officials are to be convinced to support initiatives that provide equitable mobility and freedom from the ever-weightier shackles of car dependence.
Anne Lutz Fernandez, a former marketer and banker, and Catherine Lutz, an anthropologist at the Watson Institute at Brown University, are the authors of Carjacked: The Culture of the Automobile and its Effect on our Lives (Palgrave Macmillan).
Stay in touch
Sign up for our free newsletter