Bikes Belong on Main Streets Because Bikes Are Not Mainly for Commuting
Michael Andersen blogs for The Green Lane Project, a PeopleForBikes program that helps U.S. cities build better bike lanes to create low-stress streets.
Trivia question 1: Of all the trips taken by U.S. adults, how many lead to or from somewhere other than work?
The answer is 78 percent.
Trivia question 2: Of all the bicycle trips taken by U.S. adults, how many lead to or from somewhere other than work?
The answer is 79 percent.
Americans use bicycles in the same situation they use any other tool: whenever it's the right tool for the job. These days, lots of U.S. cities and towns are trying to make bicycles a more useful and appealing tool. But people sometimes forget that the best way to do this is to make bicycles a useful tool for many jobs — not just commuting to work.
This is very important to remember when there's a fight over whether biking should be made comfortable on a main street, next to shops and restaurants and apartment buildings. Melissa and Chris Bruntlett pointed this out in a post last week about lessons from the world's best biking cities:
Historically, North American cities have placed their bike routes on side streets rather than main streets, forcing a problematic choice between comfort and convenience. This places an unintended emphasis on longer, faster commutes to work; when – with cycle tracks on corridors people want to visit – many more could be convinced to make the slow, short jaunt to the supermarket, cafe, or doctor's office. In The Netherlands, cycling acts as an extension of walking rather than driving, with the vast majority of bike trips less than two miles or 20 minutes.
That last fact can't be repeated enough. Even in the Netherlands, bikes are rarely used for trips of more than a few miles. For long trips, people usually use public transit or motor vehicles instead, just like people do everywhere else.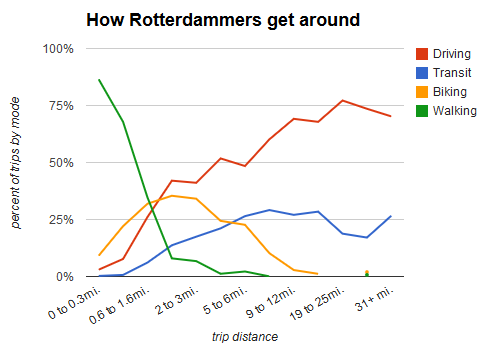 As U.S. cities try to get more people on bikes, it's very important to remember that nobody is going to suddenly turn into a commute hero. Cities with lots of biking are not filled with athletes. If you work more than a few miles from home, something that is especially common in small U.S. towns and suburbs, you are almost certainly not going to get to work by bike, period. (To a bus station, maybe, but not all the way to work.)
Here's what this means, though: if you want to increase biking and you're not going to convert 10-mile car commutes to bike trips, you'd better be converting a lot of one-to-two-mile car trips to bike trips. And you can't do that without bike networks that take people directly to non-commute destinations. In other words, bike networks need to include main streets.
But how big is biking's potential, really? What percentage of the country's 39 million one-to-two mile non-work trips currently happen in cars?
The answer is 81 percent.
U.S. data is from the National Household Travel Survey, available here.
You can follow The Green Lane Project on LinkedIn, Twitter and Facebook or sign up for its weekly news digest about protected bike lanes.