Before You Get Too Excited About Seattle's Big Transit Expansion…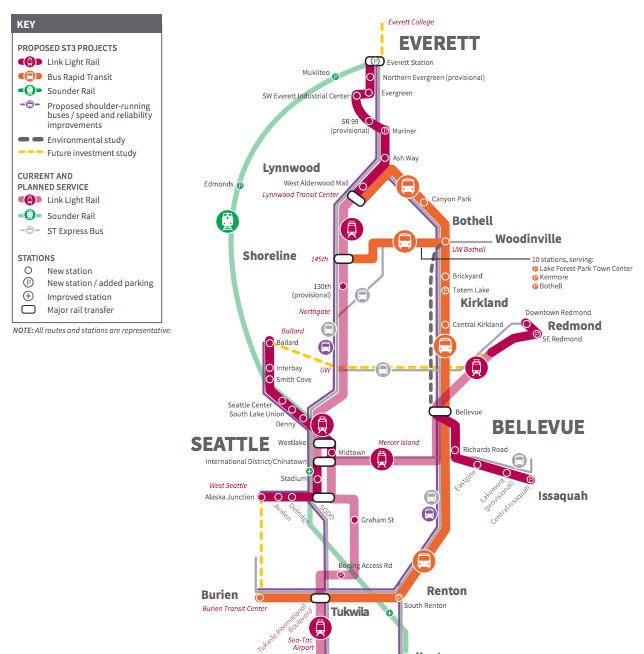 Read Doug Trumm's post at the Urbanist about Sound Transit's $50 billion, 25-year expansion plan, known as ST3, which the agency revealed yesterday. It's ambitious in scope, but will the new lines meet the region's most pressing transit needs?
Piecing together the project list has been an exercise in regional politics, since voters will decide this November whether to raise taxes to pay for the package.
Trumm says Seattle should get more out of ST3. He argues that the plan skimps on the urban heart of the region, where the potential for ridership is highest, while lavishing resources on the suburbs. Here are highlights from his post:
Seattle: West Seattle Junction, At Grade To Ballard… That's It?

The plan would build light rail to West Seattle Junction in 2033 and to Ballard via Interbay and a new Downtown transit tunnel by 2038. The plan calls for at-grade rail in Interbay and a moveable bridge crossing of Salmon Bay which cause some to worry that light rail to Ballard would be bogged down in traffic, both nautical and terrestrial. Sound Transit's own study found that the at-grade option to be 5 minutes slower than a completely grade-separated option (23 minutes versus 18 minutes). We can take solace that a second Downtown transit tunnel is on the plan, but, without many additional Seattle destinations in the light rail network, that tunnel would also be more about expanding capacity for suburban commuters than it would be about helping Seattleites. If ST3 has $50 billion, why did Sound Transit not pick a gold standard rail option for Ballard? The Ballard-to-Downtown options that were entirely elevated or with a tunnel crossing of Salmon Bay show massively larger ridership. Options C-01B (elevated) and C-01C (tunnel crossing) each showed ridership of 102,000 to 133,000. With the opening of the University Link, the Central Link hit ridership of 57,000 on Tuesday. Option C-01B or C would more than double that, showing its colossal potential. So why did Sound Transit not go with the superior option on travel time, reliability, and ridership?
Park The Herald Angels Sing

The plan calls for tons of parking, including early deliverables to Kenmore, Lake Forest Park, Bothell, Kingsgate, several places along the Sounder and in Renton. Plus more later park and ride additions as more suburban stations go online. Early estimates showed that Sound Transit would spend somewhere in the ballpark of $1 billion on parking alone in the ST3 package. If we're looking for funds for a Ballard-to-UW like we should be, this is one place to find them. Let the private sector handle more of our parking concerns as we've laid out. Don't blow a billion of our precious transit dollars storing cars. Seattle Mayor Ed Murray asked Sound Transit CEO Peter Rogoff about starting to charge for parking at Sound Transit garages to recover operating cost if not capital expenses and Rogoff didn't really have a firm answer beyond: we're going to study/look into that.

Looking Forward

In summary, the whole timeline for Seattle rail improvements is troubling. Northgate will go online in 2021 but ST3 doesn't slate another Seattle station opening until 2033 with West Seattle. The twelve year gap in light rail roll out is a problem, especially when Seattle, not its suburbs, is leading the region in growth. Ballardites would have to wait until 2038. Sound Transit also has refused to commit on the 130th Street infill station to the Central Link (citing concerns over jeopardizing federal funds) and has put off Graham Street station until 2036. These disappointments could just be Sound Transit under-promising in hopes of over-performing, but really we should expect both higher expectations and higher performance. Let's push Sound Transit to build the infill stations as soon as possible, forge ahead on the Ballard-to-UW subway, upgrade the RapidRide E closer to BRT standards and fund transit in Belltown whether streetcar or otherwise. Seattle is the fulcrum of the light rail network that makes the rest of the system work. Subarea equity should not mean the suburbs build dubious projects out into the hinterlands while Seattle languishes for decades. The whole network will produce better ridership and results when more of Seattle's core neighborhoods are well integrated in the system.
Elsewhere on the Streetsblog Network: Guerrilla "20 Is Plenty" speed limit signs are popping up in Portland, BikePortland reports. And Greater Greater Washington says walkability loses out in a proposal to make Montgomery County's Rockville Pike "multi-modal" by blowing it out to ridiculous proportions.